Very Austin

Your Very Austin party. It's the most important party on the planet. Because it is you'll likely want the cachet of a Very Austin band who shares your entertainment goals.

Reunion was formed in the Austin schools, honed at UT, refined in the Live Music Capital of the World. The proven pros of Central Texas' premier party band are as Austin as you can get.

Like its hometown, Reunion rocks. It also bares its soul, goes classic, and gets funky. And since there's a show in every song, Reunion offers great entertainment to guests who may not spend the entire evening on the dance floor.

But dancing is what they'll want to do.

As a host, you have many concerns. Your band shouldn't be one of them. You'll find that Reunion is as professional and congenial during the planning stages as it is on the big night. And by booking direct you can save on fees.

Put Reunion on your stage and you'll get:



•Top professionalism. From dress to demeanor, Reunion respects and refines your event. With hot dance sets and appropriate emcee-ing, Reunion will keep you event fun and punctual. The band's modern lighting and sound add another level of class to your presentation.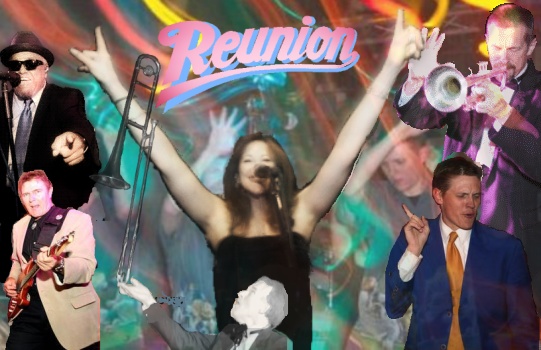 •Variety. Yes, there are lots of hot bands with numerous popular styles. Reunion prides itself in mastering all of them. There's rock favorites, of course, and way-danceable disco, but there's also dinner music, if you wish, as well as swing, standards, and Spanish selections. Country? You betcha boots! For the Longhorn fans out there, Reunion's trumpets will signal "Texas Fight." And for the A&M faithful, the Aggie War Hymn is another Reunion staple. Time for "Hava Nagila"? Raise the chairs, be happy and celebrate with Reunion.
•The Show. No doubt, Reunion's dynamic music is more-than-enough to energize your dance floor. But exceeding your expectations is Reunion's goal. That's why there's a show in every song, which delights not just dancers but other guests you wish to entertain.
Make it fun, make it Austin, make it easy with Reunion.
Click here and get your Very Austin event rolling today!